The Social Determinants of Mental Health:
Advancing Wholistic Practice Excellence
By: Ellen Fink-Samnick DBH, MSW, LCSW, ACSW, CCM, CCTP, CRP, FCM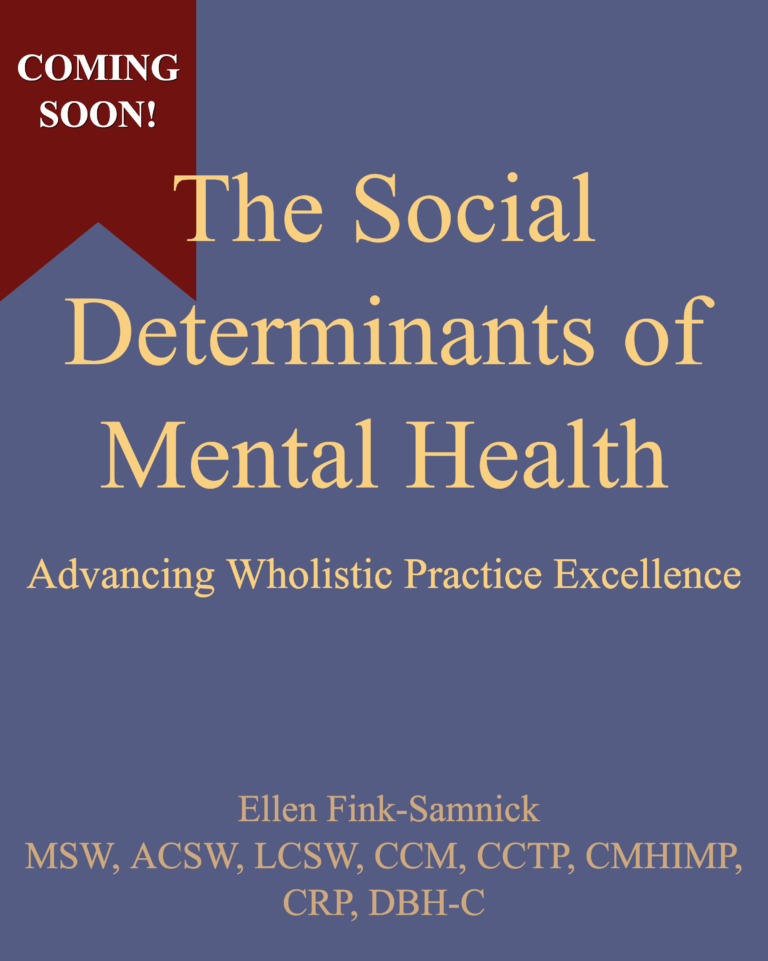 The Social Determinants of Mental Health: Advancing Wholistic Practice Excellence
By: Ellen Fink-Samnick DBH, MSW, LCSW, ACSW, CCM, CCTP, CRP, FCM
Section 1: Chapters 1-3: foundational definitions and concepts, to reimbursement, quality and practice models (e.g., integrated, wholistic health care, the Quintile Aim), 
Section 2: Chapters 4-7: population-mental health across the life course; case management challenges for the present and emerging, ethical impact, 
Section 3: Chapters 8-15 and Epilogue: engagement, assessment, intervention,  (tools and practices), case scenarios, 
Each chapter has contemplation (critical thinking) questions at the end, resources; 
For a complete list and description of all the Chapters
Click Here for the Table of Contents
Ellen Fink-Samnick is an award-winning industry thought leader who empowers healthcare's transdisciplinary workforce. Known and highly respected as 'The Ethical Compass of Professional Case Management', she is a sought out professional speaker and author with hundreds of offerings and publications to her credit.
Ellen's work has achieved global acclaim. She is a national expert on the Social Determinants of Health and Mental Health, Workplace Bullying and Violence, Professional Ethics, Professional Case Management Practice, and Wholistic Case Management™. Her latest books include, The Essential Guide to Interprofessional Ethics for Healthcare Case Management, The Social Determinants of Health: Case Management's Next Frontier, End of Life Care for Case Management, and upcoming Social Determinants of Mental Health: The Essential Guide for Healthcare Case Management. Ellen is a panelist for Monitor Mondays and Talk Ten Tuesdays, plus contributor to RAC Monitor and ICD 10 Monitor. She also serves as moderator of Ellen's Ethical LensTM on LinkedIn, consultant for the Case Management Institute, and moderator of their Case Managers Community. She is also the Lead for Rise Association's Social Determinants of Health Community.
Ellen is a Licensed Clinical Social Worker, Board-certified Case Manager, Certified Clinical Trauma Professional, Certified Mental Health Integrative Medicine Provider, and Certified Rehabilitation Provider. Her academic affiliations include roles as subject matter expert for Western Governors University, and adjunct faculty for the University of Buffalo's School of Social Work, and George Mason University's Department of Social Work. She is also a Doctor in Behavioral Health candidate at Cummings Graduate Institute of Behavioral Health Studies.
Ellen's passion is evident across her varied roles as professional speaker, industry consultant, educator, blogger, continuing education content developer, accreditation specialist, clinical social work supervisor and professional mentor to the case management community. Her contributions transverse the industry's professional associations and credentialing organizations. A past commissioner for the Commission for Case Manager Certification, and Chair of their Ethics and Professional Conduct Committee, member of the Board of Directors for the Case Management Society of America, Ellen serves on the editorial boards for the Professional Case Management Journal, Case Management Monthly, and RAC Monitor. More detailed information is available on her LinkedIn Profile.